On September 5th the Rector family had the honor and pleasure of witnessing the marriage of our son Josh to Katie Morse of Dixon, California. Little did we know last Labor Day weekend (2009) when we went on a sightseeing vacation in the Bay Area of California that we would be returning this Labor Day weekend for a wedding! Katie is a fine young lady and we're blessed and honored to now call her "daughter-in-law." We love her family and have hit it off with them since we met last year.
The wedding was held in Vacaville, CA at Ulatis Gardens with a cake and hors d'oeuvres reception right after the ceremony. A later reception was held at the Opera House in Vacaville. The food was fantastic at both venues and time celebrating the wedding with family and friends will always be a special memory for the Rector family.
Once good thing about having two photographers in the family (The bride's sister Shannon, and your's truly) is that there was plenty of time between receptions planned for photography. Two great photographers, Rose Koogler and Ryan Greeleaf were the official photographers and even though I've not seen their results yet I'm positive they did a great job. (Even if they are Nikon shooters. LOL) UPDATE! – Rose blogged her shots from the wedding. You can see them –HERE–. UPDATE #2 – Ryan blogged his shots. You can see them –HERE–.I was the proverbial "Dad with a camera" at times but tried to stay out of their way. They were very gracious and let me setup a couple shots during the private photo time with the Bride and Groom and even let me snap shots of their setups. Be sure to check out Katie's sister Shannon's blog for some of her shots.
I'll start with one of my favorites of the Bride and Grooms. This was Ryan's setup I believe and I really love the shots.
I'll back up to the getting ready shots. I shot the guys and Shannon got some of the gals. Here's the groom, my son, Josh at his place getting ready. He looks totally happy which I know he was. He pretty much had this smile the whole day.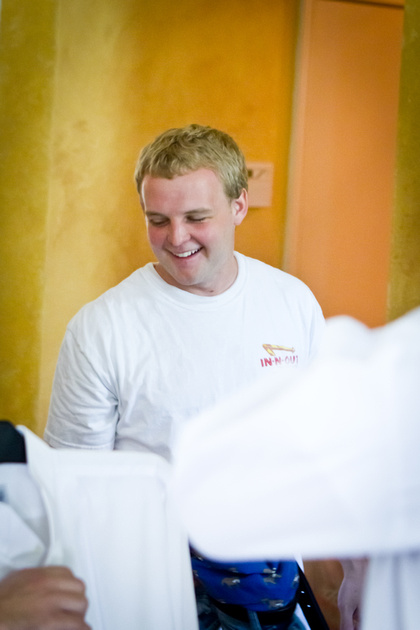 The "Dad and Son" shot with me being the Dad helping out with the tie. Thanks to Chris Valencia for taking the pic.
Josh messing with his hair.
For those that don't know the bride and her sister Jessica are twins. Jessica is signing the marriage license with Katie and her other sister Shannon looking on.
Bride and Groom right after the ceremony. Mr. and Mrs. Joshua Rector!
No post would be complete without a shot of the cake. This one was made by the daughter of the pastor of Katie and Josh's Church, Emily Rost.
The rest of the shots were taken in a private session in downtown Vacaville and a park across the street from the reception venue. It was a beautiful park and provided many places to shoot.
Here's a couple in the downtown area. If you've seen pics on my personal Facebook page you've probably already seen this one. They look so happy and are having a blast.
Love the "attitude" in this shot.
This shot is similar to one of their engagement shots and is just as beautiful here.
We all loved the downtown area. One more in black and white.
At one point Ryan told Katie and Josh to just walk down the sidewalk and do whatever came naturally. This made for many great shots. Here's one that I really like.
At one point I asked Rose and Ryan if I could take a few minutes and setup a couple shots. I wanted to try and reproduce a shot I saw on Scott Kelby's blog. Here's three shots from that setup. I was really going for the dusk look trying to make it look like the Sun was shining in from the right. They were actually taken in full daylight.
Katie and her twin sister Jessica.
Here's another of my favorites.
The rest are of Katie. She was so much fun to shoot and such a beautiful bride.
Subliminal message to Josh? I doubt it!
Last one. Katie, welcome to the family! We're so glad God chose you to be Josh's wife.